I'm delighted to announce a creative online course held in English, starting 5 February 2019. The course will be a blend of spirituality and creativity, two of my favourite things. I do hope you like to join me.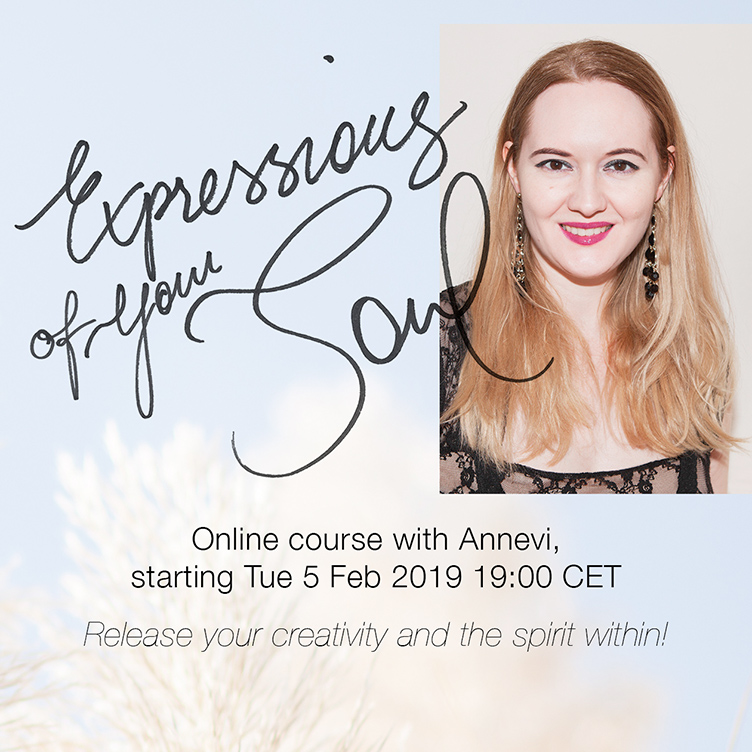 The aim of this course is to become more aware of the wonders of your soul and discover your unique spirit gifts through creative expressions. Using pen and paper, to allow inspired words and images to flow from your soul. We will also look at cards as inspiration. Release your creativity and the spirit within!
Course Description:
• Meditations and visualisations to still your mind and become more aware of who you are.
• Create in an inspired state.
• Use various tools such as cards and colour to inspire feelings, emotions, words and images from your soul.
• Look at automatic writing and spirit art.
• Sensitivity in your expressions.
• Understand and maintain your energy, your power.
• Joyfully explore your innate knowingness in a creative way.
Classes:
• 10 online sessions including, 60 min lecture, 10 min break, 50 min Q&A and exercises.
• Some exercises to do between the online sessions.
• Private Facebook group including discussions and support.
• 30 min private online session with Annevi where she will cover your personal continuing development.
This online course includes lectures, exercises and Q&A sessions to support you in your spiritual development. No previous skills in writing or art are needed! This course is suitable for those who have a willingness to explore creative expressions and your innate knowingness.
Date and times: The webinars will be Tuesdays 19-21 CET (Central European Time Zone) with start 5 Feb to 25 June 2019. The dates are: 5 Feb, 19 Feb, 5 March, 19 March, 2 April, 23 April, 14 May, 28 May, 11 June and 25 June.
Location: Online
Cost: 220 pounds
Please email, mail@annevi.com, for any questions you may have about this course.
I teach and demonstrate mediumship and have offered readings for the last 12 years. I have a MA in Literature, a BA in Bilingualism and a MEd and have worked as a university teacher. I'm also a photographer and my images has been widely published and exhibited.