I'm delighted to announce an online workshop in personal and spiritual development that will run weekly for 10 weeks, starting the 11 October to the 13 December 2018. This online course will be in Swedish, tailored for my Scandinavian participants. Course description below: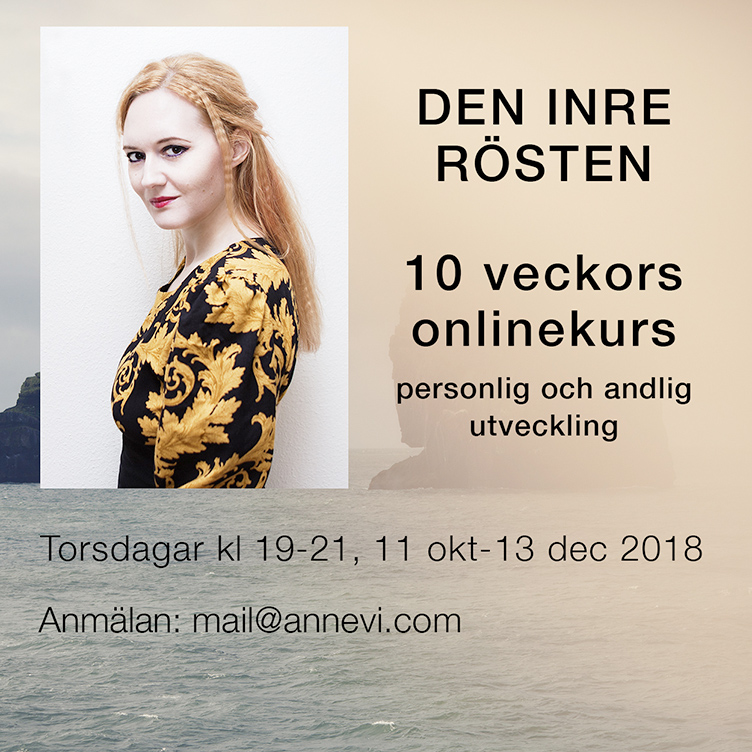 Vi är alla intuitiva, vi har alla en inre röst, men i det vardagliga bruset och när livet förändras kan den där inre rösten ibland kännas lite tystare. I denna onlinekurs får du möjlighet att lära känna dig själv och din inre röst bättre. Vad brinner du för? Vad håller dig tillbaka? Med meditationer och stärkande visualiseringar kan den här kursen potentiellt göra dig mer medveten om allt du är och allt som din själ önskar vara.
Kursinnehåll:
Genom olika övningar förstå din energi bättre. Vad höjer din energi? När tappar du energi? Och hur kan du bevara och stärka din energi?
Vad håller dig tillbaka? Och tekniker att överkomma dem.
Affirmationer – ett sätt att bryta negativa tankar och ersätta med positiva tankar.
(Åter)upptäck den du är, på djupet. Vad brinner du för? Vad är din sanning?
Meditationsövningar och tekniker att stilla tankarna och därigenom stärka din intuition.
Övningar att stärka din självkänsla och skapa rutiner som bejakar dig och ditt välmående.
Lektionstillfällen:
10 möten online med 60 min. föreläsning, 10 min. paus, sedan 50 min. med tid för frågor och övningar.
Kursövningar att träna på och utföra mellan kurstillfällena.
Privat Facebookgrupp för kursdeltagarna, med gruppdiskussioner och gruppstöd.
30 min. enskilt utvecklingssamtal online med Annevi i slutet av kursen. Annevi går igenom olika delar av din fortsatta personliga och andliga utveckling.
Alla är välkomna som önskar arbeta med sig själv och stärka sin intuition. Inga förkunskaper krävs. Kursen är en utmärkt grund för allt fortsatt andligt arbete.
När: Torsdagar kl 19-21 i 10 veckor med start torsdagen den 11 oktober tom. den 13 dec 2018. De 10 övningstillfällena blir: 11/10, 18/10, 25/10, 1/11, 8/11, 15/11, 22/11, 29/11, 6/12 och 13/12.
Var: Online!
Kostnad: 2200 kr inkl moms.
Betalning: 700 kr inkl. moms vid anmälan (ej återbetalningsbart). Återstående belopp ska betalas senast den 1 oktober 2018. Bindande bokning efter 14 dagars öppet köp enligt distansavtalslagen. (se nedan)
Bokning: mail@annevi.com  Övrig bokningsinformation bifogas vid bokning.
Ångerrätt vid anmälan: Från bokningstillfället har du 14 dagars ångerrätt. Du behöver inte uppge av vilket skäl du önskar ångra ditt köp inom 14 dagar från bokningstillfället. Ångerfristen upphör efter 14 dagar efter den dag du ingick avtalet. Om du önskar ångra ditt köp, så mejla, mail@annevi.com, att du vill ångra ditt avtal. Skriv tydligt vilken workshop du önskar avstå och uppge även dina kontaktuppgifter. Ange vilket datum som du bokade kursen, samt uppge kontouppgifter/Swish för återbetalning av avgift. Anmälningsavgift på 700 kr återbetalas ej oavsett skäl. Ingen kursavgift återbetalas sedan kursen har startat, oavsett anledning, inklusive sjukdom.