7th April
It was my birthday and my mum had surprised me with a spa weekend at Clarion Hotel Sign in Stockholm. It was suppose to be a relaxing weekend; but I was at Drottninggatan when the lorry came.
2:40pm. My mum and I arrived at the hotel. Check in time was 3pm and our room wasn't ready. I was to meet a friend at 3pm at Drottninggatan, so we decided to check in later, but the manager offered my mum a glass of wine while she waited on the room. She stayed in the lounge and it saved her from being on the scene.
2:45pm. I left the hotel, walked Vasagatan, Gamla Brogatan and turned into Drottninggatan, a pedestrian shopping street in central Stockholm.
2:52pm. I spotted a pair of pink trousers at Vero Moda Drottninggatan, a store with a large open entrance on the ground floor. I walked straight to the fitting room on the ground floor, situated close to the entrance, as I didn't have much time.
2:53pm. I had just stepped into the fitting room when I heard a very loud alarming noise from an accelerating vehicle driving in high speed and a lot of screaming. Being a pedestrian street, I instantly knew. I was in London two weeks ago, although not near Westminister.
I remember being completely still for a second, preparing myself. I left the fitting room, returned the pink trousers onto the rack by the entrance (yeah, I know). About 10 people stood at the entrance, in silence, in shock staring at the street and the scene in front of us.
2:54pm. The lorry had passed seconds ago and there was a massive cloud of dust in the air and a lot of people ran north in opposite direction of the lorry, trying to get away from Drottninggatan. There were also people standing still in shock.
The scene was catastrophic. What I saw is not possible to write, but it's the scene I keep reliving. Immediately in front of me was a lot of blood. There were severely wounded people on the ground just in front of me but also to the sides and groups of people trying to save lives and take care of the injured. I have clear memories of things that happened at the next crossing (50 meters away), but in my mind, it seems much closer. Somehow my gaze must have sharpened. There were also people who had fallen, trying to get away from the lorry. Just in front of me also lay a deceased dog, a symbol of complete innocence.
I called my mother (2:54) and said I was safe and told her to stay at the hotel. She was meant to meet me after check in.
2:55pm. I called my friend that I was meant to meet, realising she would most likely be at Drottninggatan too. She was safe in a store that was already in lock down. I don't remember the rest of the call, but it was brief.
2:56-3:02pm is fragmented. I left Drottninggatan, turned into Gamla Brogatan, which is a minor street. There were a lot of people running from Drottninggatan onto that street. I had got almost a block when a man suddenly screamed, "Another lorry is coming". People around me once again relived the panic of running to the closest store entrance. I remember running past people coming in the opposite direction, not realising at all what was going on. I remember the contrast.
Two other women got into the same store as I did. We were only a block away from Drottninggatan, cnr Gamla Brogatan/Målargatan, yet the staff was unaware of the attack. The store immediately prepared for lock down. There wasn't a second lorry, but the fear of the Second Flight was very real to me. After a couple of minutes and no truck in sight, I decided to run back to the hotel. I only remember fragments. People staring at me as I cried as I ran. To me the Second Flight was emotional and increased the flight mode. Later I learned that the driver had taken almost the exact escape route that I had run (from Vasagatan).
3:04pm. I was back at Clarion Hotel Sign. I told the manager what was going on and they immediately opened a separate conference room for us. I was the first one back, but many more arrived in the next couple of hours. Stockholm Central Station and Arlanda Express is situated next to the hotel and it was evacuated. At the hotel were also people who had been evacuated from the station. I talked to a young man that had ran and left his bag, so he had no wallet, nothing but his mobile. Clarion Hotel Sign did everything right and they helped us in so many ways.
3:21pm. I posted a photo to Facebook of what I had just witnessed.
3:30pm. One of the editors I've worked with called and asked if I could do media. I'm a photographer, so I almost felt it was my responsibility, the least I could do. I was safe and I had been at the scene. Perhaps that was my role.
3:40pm. I did my first interview with a Swedish newspaper.
3:45pm. BBC called and initially I just helped them to get an overview of the attack, but moments later we also did live TV. It just happened very quickly. I did all the media I was able to do and it was non-stop international media.
6:30pm. My friend called and I sat down for the first time. She was only a block north of where I had been when she saw people started to run in front of her, some still dragging their suitcases. When she turned around, she saw the lorry behind her at full speed. She ran for her life and the door were open at the next store so she could jump in. The truck had passed her before she was able to turn around to see it. She was but seconds away.
I don't know if it was hearing her story, or me sitting down, relaxing for the first time, but I almost collapsed. I was feeling so sick and had to rest, although it was impossible to sleep. I declined all media although my phone went crazy with requests. I didn't sleep at all that night, but felt better the following day and did more media and TV on the Saturday. It wasn't easy to do, but it was a way to start processing what had happened. I mostly did international media and I have to say the journalists were very professional in their conduct, quite fantastic really.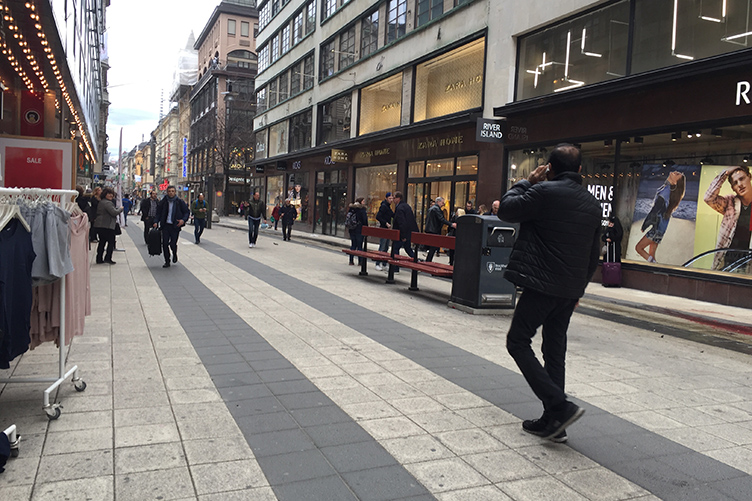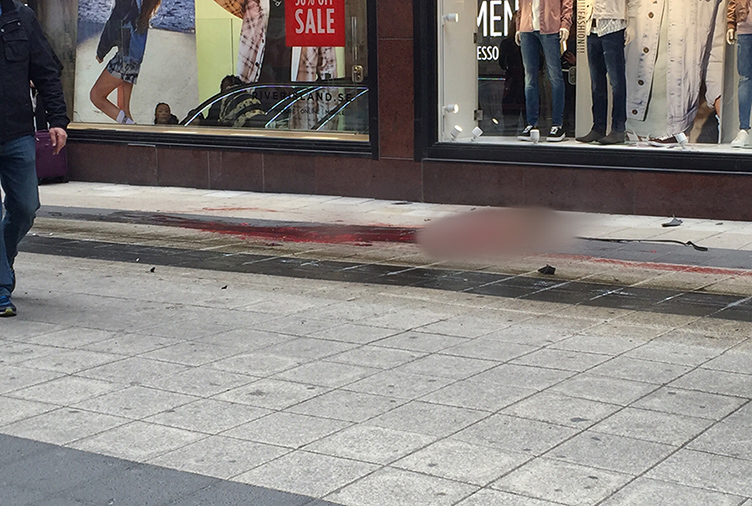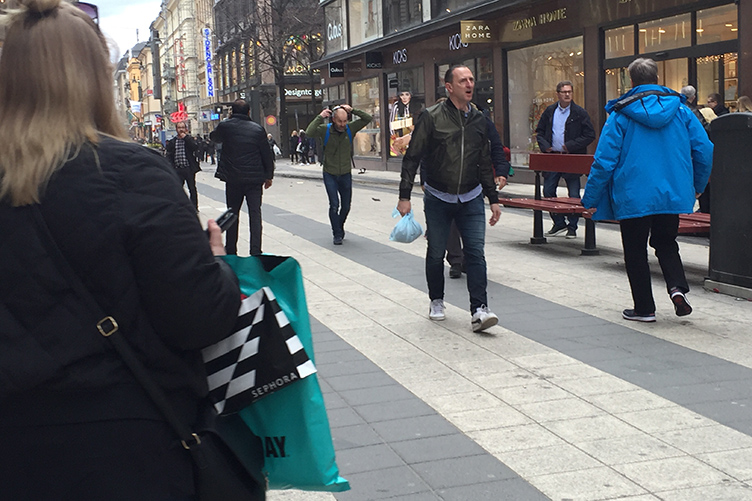 My memories are very fragmented from Friday and there are things I have absolutely no memory of. I didn't really sleep at all the first two nights. I still have no appetite and I haven't eaten a full meal since Friday. I talked to a counsellor yesterday and I feel that helped somewhat. I'm still very much there, at the scene, trying to understand the timeline, the impressions and the emotions. I think it's difficult it happened on my birthday.
My thoughts go to those who didn't make it and to their loved ones. I can't even imagine. I think of my friend who was so desperately close and managed to get away with only seconds to go. I think of my mother who would have been with me unless she got held up at the hotel. I think if I hadn't stepped in to the store just the minute before, I would have been at a stretch with no doors. I think of all of those who were close but survived; that's a different trauma. I think of everyone affected, who were in the city. Everyone's story is different yet we also share many things.
I have lived in Stockholm for many years, but I live in London now and was only in Stockholm for 24 hours. I was supposed to meet my friend at a different location at 4pm, but I changed the time and location to the exact location of the terror attack, yet I survived. I thank my guardian angels. I'm so grateful to be alive as are my loved ones that were there. I feel devastated for those who weren't as fortunate. I think of the support people have shown each other in the wake of the trauma. I'm also amazed by the messages of love I've been given from friends around the world. I choose to focus on love.
Interview for CBS with Jonathan Vigliotti
Mitt i Stockholm (Interview in Swedish)